You are invited to read "An American Revolution Diary," an exclusive, new examination of the ten crucial days of 1776-77 on the Princeton Battlefield Society's website, www.pbs1777.org. The Diary will start on December 14. In the words of leading historians and authors, explore this time in our American history, day-by-day. Our line-up of historians includes:
Prelude: December 14-25, 1776 – David O. Stewart
Day 1: December 25, 1776 – Ron Chernow
Day 2: December 26, 1776 – Mark Lender
Days 3 & 4: December 27-28, 1776 – David Hackett Fischer
Days 5 & 6: December 29-30, 1776 – James Kirby Martin
Days 7 & 8: December 31-January 1, 1776-77 – Larry Kidder
Day 9: January 2, 1777 – David Price
Day 10: January 3, 1777 – Glenn Williams
Postscript: January 3-6, 1777 – Rick Atkinson
VIEW INTRODUCTION FOR THE DIARY DAYS >>
It is a refreshing new drama of our American Revolution. Join us as we explore the critical timeframe, December – January 1776-77, known as the ten crucial days of the American Revolution.
We will start our Diary (mid-December to the 25th) as a prelude to George Washington's Crossing of the Delaware River on Christmas night, his victory at first Trenton, his second victory at Assunpink Creek (second Trenton), his stunning overnight march to Princeton and dramatic victory at the historic Battle of Princeton – followed by a postscript for these truly Ten Crucial Days of the American Revolution. We welcome you and look forward to you enjoying our "American Revolutionary Diary."
The "Diary" will start on December 14 and end after January 6. Each posting will be on the day noted above.
After punishing defeats in New York and a desperate retreat across New Jersey, General Washington's freezing men camped on the west bank of the Delaware River, many without tents. Fewer…
Read The Rest >>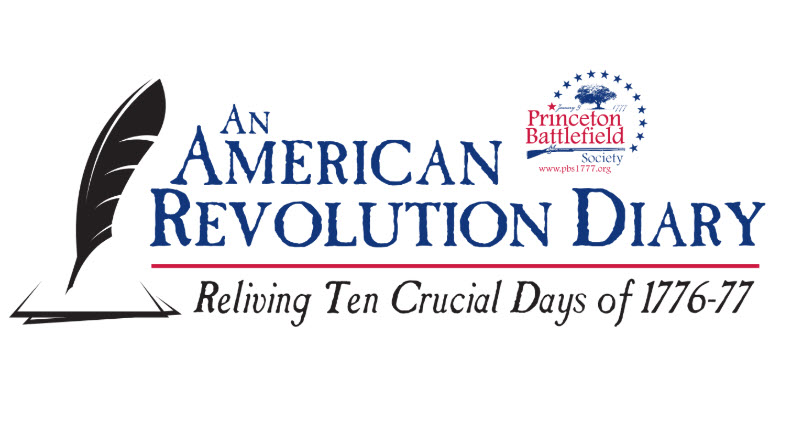 As our guest historians and authors relive these special, critical days in securing our independence, we welcome your support of our efforts to inform, educate, and involve people in programs and services focused on the American Revolution, the ten crucial days of 1776-77, and the heritage of what happened at Princeton and afterwards.   
The Princeton Battlefield Society requests and welcomes your partnership.  Our History & Heritage Fund furthers our efforts to bring the American Revolution to life through new exhibits, displays, and informative materials.  Our goal is to turn the historic Thomas Clarke House into a first-class, living history museum and to expand an understanding and appreciation of our American history and the heritage of the ten crucial days.  Exploring our military victory is important; so is the human drama of British and American soldiers, civilians and slaves, women and children. They were all part of the ten crucial days. Our History & Heritage Fund will focus on the Battle of Princeton, but it will also tell human stories through exhibits, displays and informative materials.  We ask you to help us achieve our goal with a donation today.
We send our thanks - - and hope you enjoy our "American Revolution Diary."
Donation Form