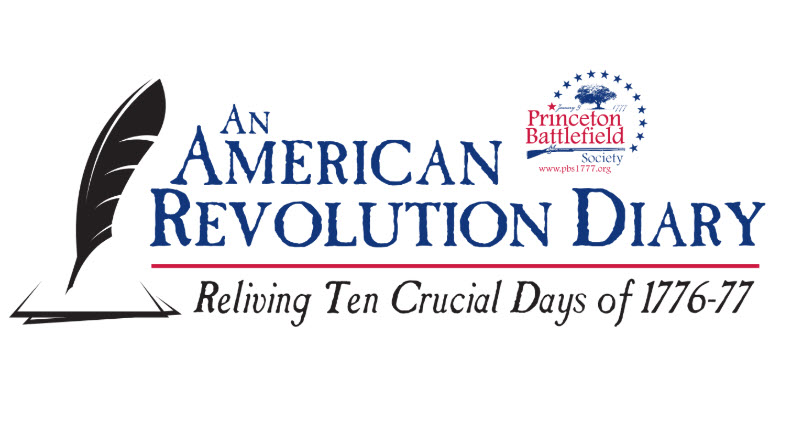 Day 10 – January 3, 1777: Battle of Princeton
With campfires burning on Mill Hill, Washington sent his baggage south and began the twelve-mile overnight march north to Princeton with about 6,000 men, mostly untested Pennsylvania militia in freezing weather. Just south of town, on the Quaker farms of William Clarke and his brother Thomas, the Continentals encountered a column of British regulars commanded by Lieutenant Colonel Charles Mawhood marching south to reinforce Cornwallis. Almost simultaneously, the opposing forces deployed and the battle was joined. Virginia General Hugh Mercer led about 350 Virginians and Pennsylvanians against Mawhood's 17th Regiment of Foot. After a ferocious bayonet attack, Mercer lay mortally wounded on the field and his troops retreated, giving the redcoats an early advantage. Washington rallied retreating Continental and militia units and personally led the counterattack that drove the enemy from the field. The larger American force then attacked and defeated the remnant British garrison in Princeton proper. When Cornwallis in Trenton heard the artillery fire in the distance, he countermarched his superior force back toward Princeton to give battle, but it was too late. Only one hour prior to the arrival of Cornwallis's advance units, Washington and his Continental Army had marched north along the Millstone River toward Morristown, New Jersey. Temperatures remained in the twenties all day. ~ Glenn Williams, author of DUNMORE'S WAR: The Last Conflict of America's Colonial Era and Senior Historian, U.S. Army Center of Military History.
As our guest historians and authors relive these special, critical days in securing our independence, we welcome your support of our efforts to inform, educate, and involve people in programs and services focused on the American Revolution, the ten crucial days of 1776-77, and the heritage of what happened at Princeton and afterwards.   
The Princeton Battlefield Society requests and welcomes your partnership.  Our History & Heritage Fund furthers our efforts to bring the American Revolution to life through new exhibits, displays, and informative materials.  Our goal is to turn the historic Thomas Clarke House into a first-class, living history museum and to expand an understanding and appreciation of our American history and the heritage of the ten crucial days.  Exploring our military victory is important; so is the human drama of British and American soldiers, civilians and slaves, women and children. They were all part of the ten crucial days. Our History & Heritage Fund will focus on the Battle of Princeton, but it will also tell human stories through exhibits, displays and informative materials.  We ask you to help us achieve our goal with a donation today.
We send our thanks - - and hope you enjoy our "American Revolution Diary."
Donation Form