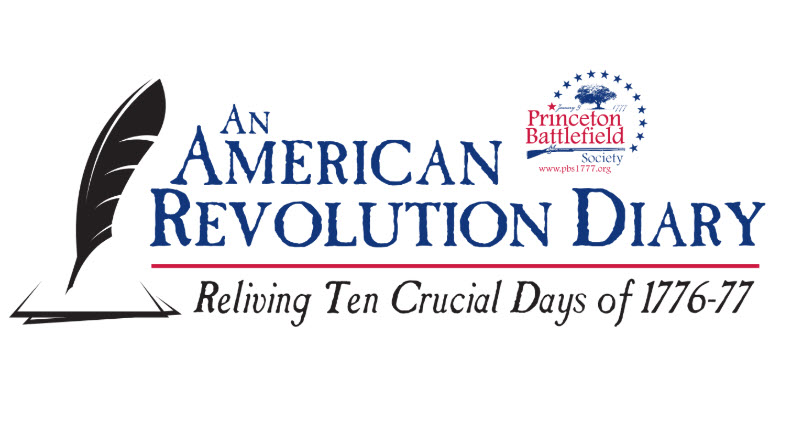 Days 5 and 6 – December 29-30, 1776
General Washington faced two major problems when finally deciding to move his victorious Continentals back across the Delaware River from their temporary campsite in Newtown, Pennsylvania. Justifiably, he felt obligated to support the force of 1,500 Pennsylvania militiamen that Colonel John Cadwalader had finally gotten across the river on the 27th and was now searching for the retreating Hessians south of Trenton. Further, Washington knew he had to keep his own force active, even with little time to rest, largely because so many of his Continentals were ready to break camp and go home after their enlistments ended on January 1. Amid bitterly cold weather and up to six inches of fresh snow on the ground, the movement to re-cross the river into New Jersey largely took place on December 29 and 30. Once back in the Trenton area, Washington collected most of his bedraggled troops just below the town along the south side of Assunpink Creek on Mill Hill. His hope was that thoughts of again facing the hated British/Hessian enemy would animate his Continentals to extend their enlistments for six more weeks. Late on the 30th, Washington tried to rally a New England regiment to keep standing with the cause of liberty. Such intense persuading, virtual begging on his part, continued with other regiments, all the way to the New Year. More than half reluctantly accepted Washington's pleas along with a promised bonus of ten dollars for extending their term of service. All told, Washington would have about 6,000 Continentals and militiamen in position to face combat with the enemy troops, now beginning to bivouac about ten miles to the north in Princeton, once the New Year 1777 began. The temperature remained below freezing both days. ~ James Kirby Martin, author of BENEDICT ARNOLD, REVOLUTIONARY HERO: An American Warrior Reconsidered.
As our guest historians and authors relive these special, critical days in securing our independence, we welcome your support of our efforts to inform, educate, and involve people in programs and services focused on the American Revolution, the ten crucial days of 1776-77, and the heritage of what happened at Princeton and afterwards.   
The Princeton Battlefield Society requests and welcomes your partnership.  Our History & Heritage Fund furthers our efforts to bring the American Revolution to life through new exhibits, displays, and informative materials.  Our goal is to turn the historic Thomas Clarke House into a first-class, living history museum and to expand an understanding and appreciation of our American history and the heritage of the ten crucial days.  Exploring our military victory is important; so is the human drama of British and American soldiers, civilians and slaves, women and children. They were all part of the ten crucial days. Our History & Heritage Fund will focus on the Battle of Princeton, but it will also tell human stories through exhibits, displays and informative materials.  We ask you to help us achieve our goal with a donation today.
We send our thanks - - and hope you enjoy our "American Revolution Diary."
Donation Form