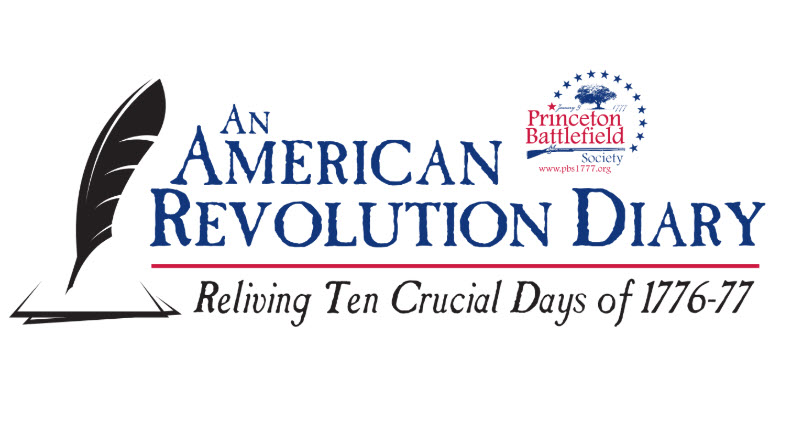 Days 7 and 8 – December 31, 1776-January 1, 1777
On December 31, 1776, with temperatures in the 30s, Washington completed his efforts of the past several days to convince his Continentals to extend their one-year enlistments, which ended that day, for an additional six weeks. He had troops at Trenton and also at several other locations, including Crosswicks, so other officers had to help with this effort. On January 1, his army then consisted of the remaining veteran Continentals who had extended and also a large number of militia, especially from Pennsylvania, with much less combat experience. Washington's scouts obtained evidence that Lord Cornwallis expected to consolidate about 8,000 British and Hessian troops at Princeton and then make an attack on Trenton. Washington also obtained a sketch map, known as the spy map, showing British positions at Princeton and a little-used back road that could give him unopposed access to the town.
Planning to entice Cornwallis to attack him at Trenton, Washington established his troops and a large number of artillery pieces on Mill Hill, opposite the main town of Trenton across the Assunpink Creek. This gave him the high ground advantage and the creek as a defensive moat with only one bridge to defend. To delay the battle at Trenton itself until late in the day, he sent about 1,000 troops toward Princeton on the main road to set up defensive ambush positions at several creek crossings and ordered the troops to delay the British to give him time to prepare and then fight the main battle late in the day. Advance squads of British and Americans at points near Princeton skirmished briefly. Towards the end of the day on January 1, the temperature climbed into the low 50s, and Washington planned to bring all his troops to Trenton overnight ready to face Cornwallis the next day. ~ William L. Kidder, author of TEN CRUCIAL DAYS: Washington's Vision for Victory Unfolds. www.wlkidderhistorian.com
As our guest historians and authors relive these special, critical days in securing our independence, we welcome your support of our efforts to inform, educate, and involve people in programs and services focused on the American Revolution, the ten crucial days of 1776-77, and the heritage of what happened at Princeton and afterwards.   
The Princeton Battlefield Society requests and welcomes your partnership.  Our History & Heritage Fund furthers our efforts to bring the American Revolution to life through new exhibits, displays, and informative materials.  Our goal is to turn the historic Thomas Clarke House into a first-class, living history museum and to expand an understanding and appreciation of our American history and the heritage of the ten crucial days.  Exploring our military victory is important; so is the human drama of British and American soldiers, civilians and slaves, women and children. They were all part of the ten crucial days. Our History & Heritage Fund will focus on the Battle of Princeton, but it will also tell human stories through exhibits, displays and informative materials.  We ask you to help us achieve our goal with a donation today.
We send our thanks - - and hope you enjoy our "American Revolution Diary."
Donation Form